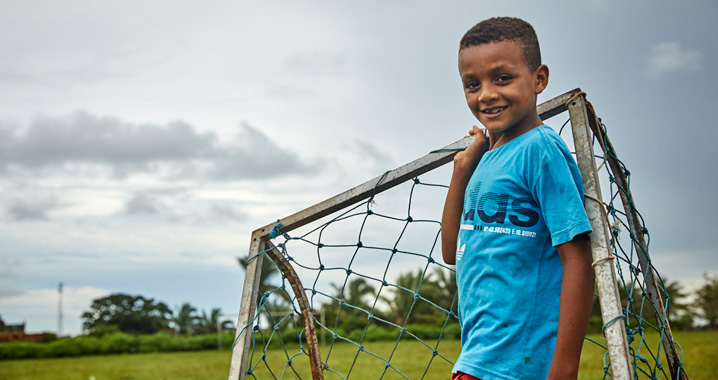 This weekend, the 6th of April 2019, proceeds the seventh International Day of Sport for Development and Peace – a special holiday defined by the United Nations General Assembly (UN) in 2013. The date was chosen following the opening of the first Summer Olympics of modern times in Athens in 1896. The associated values such as tolerance, fairness, teamwork, mutual respect, peaceful coexistence, and solidarity are a welcome occasion for Football Learning Global to arrange special FLG event days:
1) From the first to the fifth of April a project week will take place at the Möser Realschule in Osnabrück (Germany), during which the values and experiences of street football will be transferred to the social practices in classes and school communities. Students (5th to 9th grade; youths with and without refugee or migration experience) will bring together their perspectives in encounter and diversity workshops, bring them into understandable visual language with the help of the illustrator and intercultural trainer Yorgos Konstantinou and publish them in an interactive exhibition this Friday for the entire school community and all interested parents. In addition, the perspectives on diversity will be expressed in hip-hop texts to record a street football and diversity hymn for the school during the next weeks. Both groups also have special visits during the week: Marcelline from Esperance (Rwanda) brings in her experience, knowledge, and biography and will realize workshops on the global dimension.
More about the work on diversity and encounter in the context of Football Learning Global can be found here.

2) In Kigali (Rwanda) the baton will be taken over on Saturday: The sixth of April is an important date in Rwanda. On this day in 1994, the then President Juvenal Habyarimana was killed when his plane was shot down during its landing to Kigali. Then the violence escalated. It culminated in a genocide in which more than 800,000 people died within 100 days. These terrible events still shape politics and life in Rwanda today. On this Saturday – 25 years later – a 100-day commemoration begins in Rwanda, which the Football Learning Global organization Esperance actively organizes and celebrates in Kigali and in its center.
Rwanda and Esperance are the topics of a completely new teaching package to teach and learn more about the context Rwanda and, among other things, the genocide. Here an insight.
3) Sunday morning, Kigali will pass the baton to Tel Aviv-Jaffa (Israel): There, young people of the Peres Center for Peace and Innovation organize a local-global Diversity World Cup for Arabic and Hebrew-speaking young people in mixed teams, which gather points for all Football Learning Global Countries. With their engagement, they are committed to positive cooperation in diversity and open their eyes to diversity in other FLG contexts. And they assume a special role within the Diversity World Cup: this 40th local street football diversity tournament marks the end of the first FLG diversity season and the start of the second. On Sunday it will be decided which country will win the symbolic first trophy!