Through Life With a Ball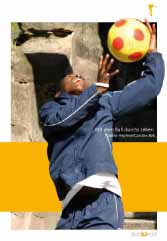 The media kit Through Life With a Ball has a special history. Organizations from all over the world participated in it: from Israel, Palestine, Rwanda, Cambodia, India, Chile, Brazil and Germany. The diversity and the exchange of perspectives, both central elements of global learning, were considered during the development of the material.
With the help of 13 exciting biographies of girls and women, different community, cultural and political realities are presented. Challenges and questions of globalization will be considered from different points of view.
To see the world from another's eyes is the central goal of learning. Publishers are KICKFAIR and The Institute for Peace Education Tübingen.
Format: Lecture Brochure with DVD and Biography Poster Series
Learning rules and democracy through street football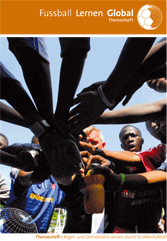 The teaching material "Learning rules and democracy through street football" describes in detail how playing "street football for tolerance" has great potential for educating participants in rules and democracy: It is a method in which the themes of rules and democracy can be introduced in a playful and experiential way, reflected upon and then carried over into other areas of life. It also serves as an environment where children and young people can share their own experiences with following rules and acquire other social skills. The 64-page text provides six models for the classroom and for work with children and young people, accompanied by a theoretical introduction on the theme of learning rules and democracy.
Text: Steffi Biester, Jochen Föll, Carsten Ress, Nadine Heptner
Publisher: KICKFAIR and the Tübingen Institute for Peace Education
Learning Circle South Africa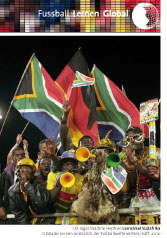 The World Cup of 2010 stimulated excitement worldwide. Spectators were glued to the screen at home, as well as in the host country, South Africa, to watch emotionally-charged and fairly played matches. The major football event provided a motivational opportunity for engagement of schools and youth in the host country of South Africa. For the occasion, the Tübingen Institute for Peace Education, in cooperation with KICKFAIR, produced a brochure titled Learning Circle South Africa. Learning Circle South Africa provides six modules that can be implemented independently from one another in the classroom. Each module contains various texts, maps, diagrams and videos that offer different methods for discussion of global learning, young people and the role of football.
Content: Brochure, DIN A4, 64 pages with accompanying DVD